Women's Land and Home Project in Africa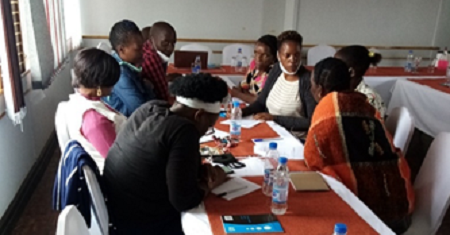 The second phase of HLRN's Women's Dispossession from Land and Home project will culminate in the summer of 2021. This phase added work from two HIC-HLRN partners new to the project – Zimbabwe People's Land Rights Movement (ZPLRM) and Civic Forum on Housing and Habitat Zambia (CFHHZ), in addition to supporting further research by Shelter and Settlements Alternative: Uganda Human Settlements Network (SSA: UHSNET). HIC-HLRN has been supporting these organizations through trainings on an international and regional human rights normative framework and using HLRN's Violation Impact Assessment Tool (VIAT) to quantify habitat, wellbeing and material losses that women have incurred through various types of dispossession. Findings of the research will soon be published in three separate reports on the Women's Land and Home project page.
In Zambia, CFHHZ undertook research to identify the impacts of women's dispossession arising from investment and development in four rural villages of Ndola region, , Masaiti District, where Chief Chiwala is the local authority. The Chiefdom of Chiwala has attracted significant investment that has led to displacements and loss of agricultural land and access to natural resources such as water and forests. This study focuses on households of farmers who were affected by the Nigeria-based Dangote Corporation's establishment of a cement manufacturing plant in the area in 2013. The field research builds on advocacy carried out by CFHHZ and Copperbelt Indigenous Peoples Land Rights Network (CIPLRN), seeking adequate compensation for those who were displaced. CFHHZ field researchers gathered information on the potential losses, costs and damages to displaced families who already relocated from their original homes, as well as those who remained in their original homes despite losing their farmland and access to natural resources and face displacement.
In Zimbabwe, ZPLRM examined post-resettlement displacements and tenure insecurity resulting from Zimbabwe's Fast Track Land Reform Program (FTLRP). These arose largely from disputed tenure from competing beneficiaries of the FTLRP and subsequent counter claimants to the land. Field research focusing on women-headed families was conducted in the Sokis resettlement community at Innezdale Farm in Mhondoro Ngezi, Kadoma District, located about 200km southwest of Harare, where households are threatened with pending forced eviction. ZPLRM carried out a survey with the community to help quantify the potential losses, costs and damages of this eviction, as well as an individual case already being adjudicated in the courts. Findings and recommendations of the report will be a useful input to remedy in the4se cases, as well as in Zimbabwe's ongoing land-policy consultations and formulation.
In Uganda, SSA: UHSNET have completed a report containing the research and analysis of its second case study in the Amuru District of Northern Uganda. The survey conducted as part of the research and problem solving shows that dispossession of female-headed households from their homes was rampant in the area, with 90% of female respondents reporting that land-related conflicts were prevalent among local inhabitants and between different communities. In the report, SSA: UHSNET identifies three interventions needed (training, dialogue and a transformative socio-cultural campaign) to address the challenge of land and home dispossession of female-headed households at the local level in Amuru.
Click here to find the collection reports, training materials and research instruments from both phases of the Women's Land and Home project in Zambia, Zimbabwe, Uganda and Kenya, as well as from HLRN-India in the project's first phase.
Photo: Participants in the HLRN/ZPLRM technical workshop refine the survey questionnaire before conducting field research. Source: ZPLRM.